At a glance
Check for Estimated Bills: Look for terms like 'estimated reading' or 'E' on your energy bill. If it's an estimate, consider submitting your own meter reading.
Contact Your Retailer: Reach out to your energy retailer to discuss the high bill. Ask about timeframes for resolution and keep records of your conversations.
Ombudsman Assistance: If unresolved, contact the energy ombudsman in your state. They provide free, independent dispute resolution.
Receiving an energy bill can be a regular occurrence, but what happens when you glance at the numbers and suspect something might be amiss? If you're facing an unexpectedly high electricity or gas bill and believe it's incorrect, it's crucial to know your rights as an energy consumer in Australia.
Today, we will explore your options step by step, helping you understand how to address billing discrepancies while making the most of your energy rights.
Energy Consumer Rights in Australia
Energy is considered an essential service, and as a consumer, you are protected by various laws and regulations that are set by the ACCC, Australian Energy Regulator, Essential Services Commission or other governing bodies. The specific protections may vary depending on your location within Australia, so it's essential to know your state or territory's regulations.
If you reside in the ACT, NSW, Queensland, South Australia, or Tasmania, your energy rights and protections are governed by the National Energy Customer Framework (NECF). In the Northern Territory, Victoria, and Western Australia, energy consumer safeguards are established under local legislation.
Comparing Energy Plans to Find A Better Deal
It's important to mention that regularly comparing energy plans and your electricity and gas retailers is a proactive way to ensure you're not overpaying for your energy usage. Many energy comparison websites, like Select and Switch, provide tools that allow you to compare energy plans to find a better deal and one that is most suitable for your needs.
Taking advantage of these tools can help you find the best deals in your area on energy prices, make informed decisions about your energy provider, and potentially change energy suppliers and your energy plan, which can help avoid billing issues in the first place. Once you have received a bill, you can provide information about your energy use and contact details which are then checked against the electricity prices and gas rates to see if a different electricity or gas offer is available to save you money.
Energy compare websites such as Select and Switch help you compare the market and try to reduce your energy costs, and the service is free. It is advisable to check your bill against the latest energy offers and local energy plans for your area at least once every 3 months but at a minimum every 6-12 months, as rates are occurring more frequently than they used to.
Find out how electricity bills in different Australian states compare.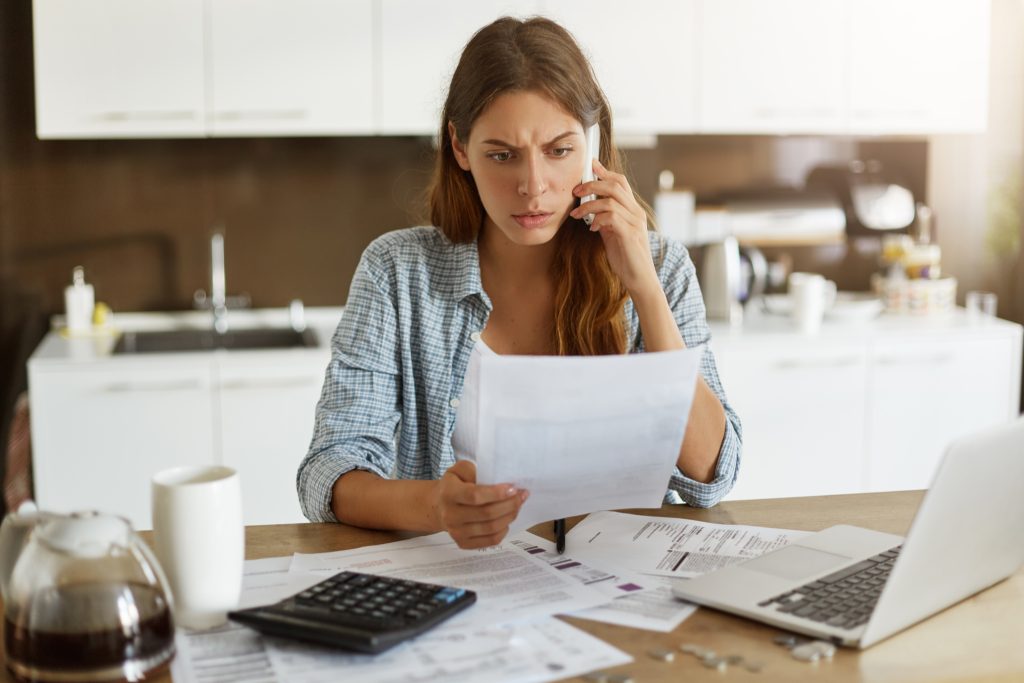 Steps to Take When You Suspect an Inaccurate Energy Bill
Check for Estimated Bills With Your Retailer
The first step is to determine whether your bill is based on an estimated reading. Electricity or gas retailers are required by law to clearly indicate on the bill if it's an estimate and has not been based on the details gathered by a meter reader or actual meter reading. Look for terms like "estimated reading" or simply 'E' next to the usage charge.
If you have an estimated bill, consider submitting your own meter reading to your retailer, known as a 'self-read.' This can usually be done by contacting your retailer and providing a photo of your meter. While this option may not be available for solar or smart meters, a clear self-read can lead to a bill adjustment if it proves the bill is incorrect.
Contact Your Retailer
If you believe that there is a problem with your energy bill, or it is higher than usual, then reach out and talk to your energy retailer and inquire about the reasons behind the high bill. They are obligated to review your bill at your request, in line with their complaints policy. Be sure to ask for the expected timeframes for resolving complaints as per their policy. Make sure you keep notes of your discussion in case the matter is not resolved.
Meter Check
If you suspect a faulty meter is responsible for the high bill, you can request a meter check. However, keep in mind that some retailers may charge a fee if the meter is found to be functioning correctly. Before requesting a meter check, inquire about potential charges.
Refund for Overpayment From Your Energy Retailer
If you've already paid the bill and it's later found to be incorrect, there are rules in place for your retailer to return any excess amount you've paid.
Seek Assistance from the Energy Ombudsman
If you're dissatisfied with your retailer's response to your billing dispute, consider reaching out to the energy ombudsman service in your state or territory. E.g. The Energy and Water Ombudsman Victoria supports customers with issues with Victorian energy.
The energy ombudsman will investigate to check whether your energy supplier may be doing the wrong thing under Victoria's energy legislation. These services are free and independent, providing a resolution for unresolved complaints for Victorian households or businesses. The same applies to each state, so don't hesitate to contact your relevant energy ombudsman for support.
Additional Protections
If you currently have a dispute regarding your bill with your retailer or ombudsman, you are granted extra protection. Notably, your retailer cannot disconnect your service while your account is in dispute and has to continue to provide energy to customers in this circumstance.
Understanding the Resolution Process With Your Energy Supplier
The process of resolving energy billing disputes can vary depending on your specific circumstances and the policies of your energy retailer. Some retailers have dedicated professionals to handle disputes and resolve problems, while others rely on customer service representatives. The nature and outcome of your complaint may also differ from case to case.
When initiating a complaint, it's advisable to establish a clear timeline for resolution. Typically, allowing a reasonable timeframe of around 10 business days for your retailer to respond is a good practice. Explain your problem and what you want clearly, and ensure you keep thorough records of all communications with your retailer, as these may be useful if the issue escalates.
Contact the Ombudsman
If your complaint remains unresolved or you are unsatisfied with the resolution proposed by your retailer, contacting the energy and water ombudsman service becomes the next step. Each state and territory in Australia has its own energy ombudsman to handle disputes.
NSW: Energy & Water Ombudsman NSW (Phone: 1800 246 545)
VIC: Energy & Water Ombudsman Victoria (Phone: 1800 500 509)
QLD: Energy & Water Ombudsman Queensland (Phone: 1800 662 837)
SA: Energy & Water Ombudsman South Australia (Phone: 1800 665 565)
ACT: ACT Civil and Administrative Tribunal (Phone: 02 6207 1740)
TAS: Energy Ombudsman Tasmania (Phone: 1800 001 170)
These ombudsman services act as a free and independent dispute resolution mechanism and can assist you in reaching a satisfactory resolution to your billing dispute.
Can Electricity And Gas Bills Be Wrong?
While it's not common for electricity bills to be incorrect, it can happen. Smart meters, which transmit usage data digitally, reduce the chances of errors. However, older meters that rely on manual readings can be prone to human errors. If you're convinced your bill is incorrect, your retailer may request you to provide your own meter reading or a photo for comparison.
For gas bills, a similar process can be followed if you suspect an inaccurate reading. Contact your gas retailer to discuss the issue and be prepared to provide evidence if necessary.
The Price of My Energy Has Increased Since My Last Electricity Bill. Is This Allowed?
Depending on the type of energy offer you're on, your energy retailer may increase the price (tariff rate) of your energy. The energy company must let you know and is required to notify you of any price increase at least five business days before the change, except in Queensland, where they must provide at least ten days' notice.
If you are unhappy with the new tariff rates, there are steps you can take, including the option to explore alternative energy offers from different providers. However, be aware that if you have signed a time-based contract, some retailers may charge a fee for exiting the contract early.
Therefore, it's essential to understand the details of your existing contract before considering a switch to a new offer or provider.
Is It Time to Switch or Change Energy Providers?
If you find yourself repeatedly disputing bills or are generally dissatisfied with your current energy provider, it might be time to consider switching to a new one. Unless you are connected to an embedded network, then you can complete a Victorian energy compare process, which will check your energy usage against the providers and current offers and rates available in Victoria.
This is a quick and simple way to see if you can find a better energy supplier or energy deal. The same exercise can be completed for your state or particular location.
The Select and Switch energy comparison platform offers a convenient way to explore alternative providers and plans in the energy market, which can save you money and better suit your needs. Information for electricity and gas comparison results is provided in a transparent and easy-to-follow layout.
Before making the switch to your new energy offer, be sure to review your existing contract terms, as some providers may charge fees for early termination. For more information about energy and details on the services we can help you with, check out the Insights on our website.
You should consider switching energy suppliers if you are confused by your current plan or tired of the complicated terms.
Financial Assistance for Energy Bills
If you're experiencing financial difficulties and having trouble paying your energy bills, there are government support options available for seniors and adults. Contact your energy retailer, as retailers are required to have hardship policies in place and will let you know what help is available.
If they are clearly aware of the problem, then they can assist, which may include extending due dates, offering flexible payment options making allowances for your situation, as well as waiving late fees or assessing your eligibility for different energy plans.
These payment options and making disconnection a last resort are vital when in financial difficulty, but only if you know what help is available.
Additionally, some state and territory governments provide energy rebates to customers with specific needs or those receiving government payments. Check with your local government department responsible for energy to see if you qualify for financial assistance.
In conclusion, if you believe your energy bill is inaccurate, it's important to act promptly while being aware of your rights as an energy consumer in Australia. Start by checking if your bill is based on an estimate and follow the steps outlined to resolve the issue with your retailer or ombudsman.
Regularly comparing energy plans can also help you avoid billing disputes in the future. Remember that while billing errors are possible, they can often be rectified through clear communication and evidence.
By understanding your energy rights and taking proactive steps, you can ensure that your energy bills accurately reflect your consumption and financial situation.
How to build business resilience and protect your business from energy price volatility?

How to best set up your electricity and gas connection when moving house?

Choosing the right gas or electricity plan and energy provider – A comprehensive guide