At a glance:
In Australia, each state has its own average electricity bill and market price.
Gas or electricity can be switched separately or switched together on a dual fuel deal.
If you need any assistance regarding the entire process of changing electricity and gas plans, please contact Select and Switch.
Electricity and gas costs can represent a significant portion of a household's total bills, which can also apply to businesses.
In Australia, each state has its own average electricity bill, which means that your bill might differ from someone else's.
Electricity wholesale spot prices
In May and June of 2022, there have been particularly extreme price outcomes for electricity spot prices across the National Electricity Market. The average spot price ranged from $341 to $590 per megawatt hour between 31 May and 13 June 2022. As compared to spot prices in the first quarter of 2022, this is approximately 3.5 to 5.6 times higher.
National Electricity Market region-by-region wholesale spot prices.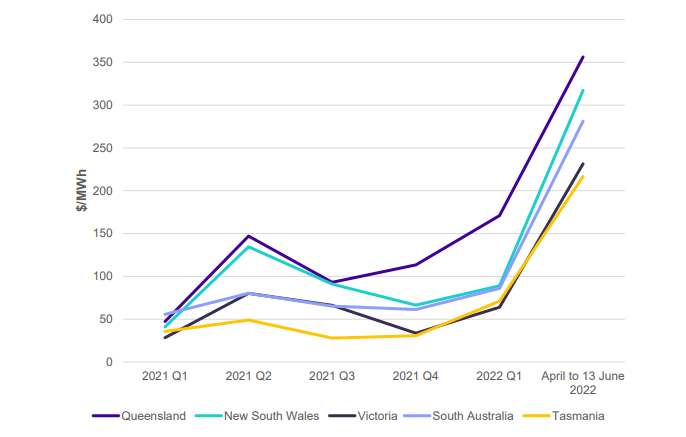 Contract prices
The price of futures contracts has also surged sharply following recent spikes in wholesale spot prices. There may also have been a reduction in contract volumes due to recent high spot prices.
According to the Australian Energy Market Operator, wholesale prices have increased by at least $140/MWh in Queensland, New South Wales, South Australia, and Victoria since 31 March 2022.
Prices expected for the next four years as of 3 June 2022 relative to 31 March 2022                 
| | |
| --- | --- |
| Region | Future wholesale prices |
| Queensland | 16–121% |
| Victoria | 24–178% |
| South Australia | 31–167% |
| New South Wales | 13–58% |
Source: ACCC and AER analysis using Australian Securities Exchange (ASX) data.
The ability to manage spot price risk requires retailers to have access to appropriate hedge contracts.
Retail price changes
Retailers play an instrumental role in smoothing out volatile wholesale prices into predictable consumer rates. Generally, they do this through contracts to purchase electricity at future rates or agreed rates to 'hedge' their electricity purchases.
| | | |
| --- | --- | --- |
| Region | Household | Small businesses |
| South-east Queensland | 11.3–12.6% | 12.80% |
| Victoria | 1.2–9.2% | 1.6–10.4% |
| South Australia | 7.2–9.5% | 5.70% |
| New South Wales | 8.5–18.3% | 10.0–19.7% |
Source: Regulated price caps
Customers who don't want to engage with the market will have the option of selecting a 'standing offer.' Default Market Offer prices set by the Australian Energy Regulator are capped for standing offers in New South Wales, southeast Queensland, and South Australia.
Why compare energy providers?
Switching energy providers or changing your energy plan could potentially save you hundreds of dollars a year. However, energy retailers are generally chosen based not only on their budget but also on their customer service and how they generate power. More people are now also interested in switching to green energy and renewable energy options. Here are six reasons to compare and switch.
There's no risk of losing your supply when switching gas and electricity providers with Select and Switch – guaranteed.
Gas or electricity can be switched separately or switched together on a dual fuel deal. Since plenty of energy suppliers are competing for your business and household, you have a good chance of switching to one of the best gas and electricity deals available. What are your options for providers and tariffs? How do you ensure you're getting a good deal?
Comparing energy tariffs is simple. It helps if you have your past energy bills on hand, but don't worry if you don't.
This is why you should consider switching your tariff or supplier for the best deal possible.
Switching process
Just tell us the postcode of your home or business location, what fuel you want to compare, and your energy usage from your last bill, if available. When you enter the information, you can quickly and easily calculate your energy bills if you were to switch suppliers.
With Select and Switch, switching gas and electricity providers is easy. The application process only takes a few minutes, and we will then work with your new supplier to switch you to the new offer. The switch will happen in the background, and you won't experience any interruption to your supply during the transfer.
Your gas and electricity shouldn't cost you an arm and a leg. Find better energy provider options through the Select & Switch comparison tool. Just in case you need a hand, here we have outlined the entire process for switching energy suppliers:
Provide Location Details
There are different gas and electricity providers in different parts of the country, and some suppliers only serve specific areas. You can narrow down which energy plans are available to you by entering your postcode on the Select and Switch website.
Would it be possible for me to switch to electricity retailers?
ACT – Yes.
NSW – Yes.
QLD – Yes, There is still regional regulation and so homes and business in Brisbane, Gold Coast, Sunshine Coast and some other regions can switch.
SA – Yes.
TAS – Yes, it is a regulated market, so there's a small variation in pricing between Aurora Energy and 1st Energy.
VIC – Yes.
Provide Your Energy Usage
We need to know how much energy you consume to accurately estimate how much you could save by switching suppliers. Your most recent bill will provide details about your consumption. If you don't have a bill handy, you can still receive a ranking of the retailers and the available offers in your area, which will be ranked based on the rates for a Single rate tariff in your postcode.
Be sure to pay any outstanding bills.
A final bill will be sent from your current provider covering the period between the switching date, and your new provider's billing will then begin and follow from the switch date. Be sure to pay your final bill from your old energy provider.
Additionally, you can also consider and look at other features, including billing cycles (monthly or quarterly), payment options, and long-term rate locks (i.e., 12 or 24 months).
Understand your energy requirements.
Choosing the right energy plan for your needs requires an understanding of your energy requirements and use. Families of five, for instance, usually have very different energy needs than single residents who spend little time at home. A comparison of your last year's energy bills will help you figure out your typical energy consumption.
It can be difficult and confusing trying to choose the best gas and electricity deals when there are numerous suppliers on the market. Our easy-to-use comparison service displays the plans of the retailers that we can help you switch to, organised by cost or how much you could save by switching. If you're looking for something specific, you can review what's important to you, such as a green energy plan, a fixed rate guarantee, or one without any charges for paying by credit card.
What charges do you need to think about before switching energy providers?
Usage charges:
Electricity and gas usage rates vary between retailers based on kilowatt hours (kWh) for electricity, or cents per megajoules (MJ) for gas usage.
Supply charges:
Prices vary by energy retailer and location but are typically between 80c and $1.20 per day.
Connection fees:
A fee may also be charged for connecting to, disconnecting from, and exiting a contract with an energy provider and will vary depending upon your state and distribution area.
Customer incentives:
You can find a variety of offers from energy providers that may benefit you, such as conditional discounts, bill credits, sign-up offers, and loyalty programs.
Customer service:
Comparing energy providers should also take into account whether you have online access 24/7, their call centre trading hours, and whether it is an Australian-owned company.
Make the Switch
After you have selected your preferred new energy supplier, your final step is to confirm the switch. You'll need to provide us with your address and some other details to submit your application request. It's that simple! Our team will then submit your transfer request to your new energy retailer, and they'll arrange the switch so that you can begin saving.
Final considerations
When transferring to a new energy offer, you have a cooling-off period of 10 business days.
In terms of exit fees, most new and existing contracts prohibit retailers from charging it; though exemptions can include solar PV systems, battery systems, digital metering systems, and other associated equipment, and some contracts that include a fixed energy rate or charge.
Select & Switch today!
These insights will help those who intend to switch their gas and electricity providers. If you need any assistance or have questions regarding the entire process of changing electricity and gas plans, feel free to contact Select and Switch at [email protected] or call 1800 959 969.
How to build business resilience and protect your business from energy price volatility?

How to best set up your electricity and gas connection when moving house?

What to do if I think my energy bill is not accurate?